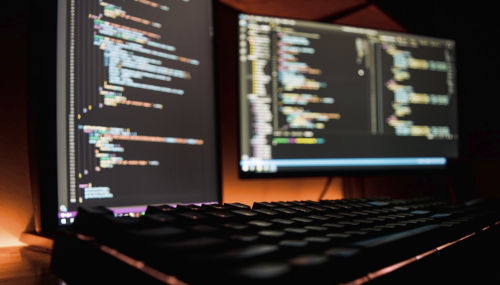 Faculty

Faculty of Applied Informatics

Programme

Information Technologies | N0613A140023

Name

Software Engineering | NSWIE

Mode

Full-time

Type

Postgraduate Master

Jazyk

Angličtina

Degree awarded

Ing.

Fee

CZK 50,000 / academic year
Annotation
The Software Engineering specialization is characterized by a deep focus on the areas of parallel and multiplatform programming, artificial intelligence, advanced methods and procedures of software engineering.
Admission requirements
The conditions for admission to study are set out in the Dean's Directive on the Admission Procedure, which is issued annually at the Faculty of Applied Informatics (FAI). This guideline specifies the requirements for admission in a given academic year and is published on the FAI official board. The basic condition for admission to the master's study program is the successful completion of a bachelor's degree in a related study program.
Additional information about admission procedure
Graduate profile
The graduate of the specialization Software Engineering can design, model, assemble and implement software projects with the help of modern advanced methods and techniques. These solutions can also assess, test, and, after deployment in production, maintain their functionality throughout their life cycle.
Expected career prospects
The graduate is equipped with current knowledge of information technology. He knows artificial intelligence, mobile technologies, intelligent networks, parallel programming, mathematical statistics, the architecture of modern processors, and logic circuits. In his specialization, he can implement software solutions, evaluate and analyze critical processes and actively intervene in them following the required goals.
Curricula
Year of validity: 2023
Compulsory Courses
| Year of study | Semester | Name | Type of termination | Number of credits |
| --- | --- | --- | --- | --- |
| 1 | ZS | Softcomputing and Datamining | Examination | 5 |
| 1 | ZS | Computer Network Operation | Examination | 5 |
| 1 | ZS | Advanced Database Systems | Classified course credit (exam) | 4 |
| 1 | ZS | Mobile Technologies | Classified course credit (exam) | 3 |
| 1 | ZS | Cross Platform Programming | Classified course credit (exam) | 4 |
| 1 | ZS | Mathematical Statistics | Examination | 5 |
| 1 | ZS | Computer Viruses and Security | Classified course credit (exam) | 4 |
| 1 | LS | Geographic Information Systems | Classified course credit (exam) | 3 |
| 1 | LS | Technical Documentation and Presentation | Classified course credit (exam) | 4 |
| 1 | LS | Selected Techniques of Software Development | Examination | 4 |
| 1 | LS | Parallel Processes and Programming | Classified course credit (exam) | 4 |
| 1 | LS | Artificial Neural Networks | Examination | 4 |
| 1 | LS | Mathematical Informatics | Examination | 4 |
| 1 | LS | Signal Processing | Classified course credit (exam) | 4 |
| 1 | LS | Advanced Programming | Classified course credit (exam) | 3 |
| 2 | ZS | Evolutionary Computation Techniques | Examination | 5 |
| 2 | ZS | Simulation of Systems | Examination | 5 |
| 2 | ZS | Security of Information Systems | Examination | 5 |
| 2 | ZS | Advanced Mobile Technologies | Classified course credit (exam) | 4 |
| 2 | ZS | Experimental Methods in Software Engineering | Examination | 4 |
| 2 | ZS | Game Development | Classified course credit (exam) | 4 |
| 2 | ZS | Parallel Computation on Graphics Processors | Classified course credit (exam) | 4 |
| 2 | LS | Multimedia | Examination | 4 |
| 2 | LS | Processor Architecture and Compilers | Examination | 4 |
| 2 | LS | Business Basics | Classified course credit (exam) | 2 |
| 2 | LS | Fundamentals of Emergency Health Aid | Course credit | 1 |
| 2 | LS | Diploma Thesis | Course credit | 18 |
| | | Professional Placement | Course credit | 5 |
Year of validity: 2023