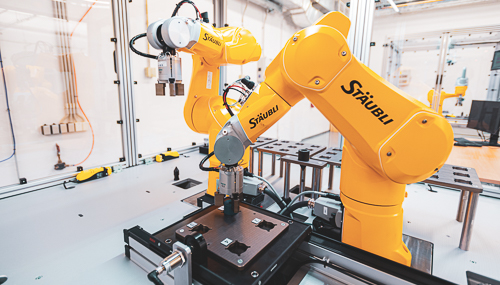 Faculty

Faculty of Applied Informatics

Programme

Applied Informatics in Industrial Automation | B0714A150007

Name

Intelligent Systems with Robots | BISRE

Mode

Full-time

Type

Bachelor

Jazyk

Angličtina

Degree awarded

Bc.

Fee

CZK 50,000 / academic year
Annotation
The aim of this study program is to educate graduates with good theoretical and practical knowledge and skills to participate in the construction of modern control systems, as well as their implementation and operation. Thus, the aim of the field is not to teach students to design the robots themselves or their control systems, but to gain sufficient knowledge of basic production processes and creative abilities to apply the above-mentioned automation elements at the user level. The specialization "Intelligent systems with robots" reflects the current trends of the industrial environment to apply mechatronic and robotic systems in the design and implementation of production lines as much as possible, which clearly achieves a significantly higher degree of complex automation. In both specializations, the connecting element is the issue of information technology, both in terms of hardware and software.
Admission requirements
The requirement for admission to study is the achievement of a full secondary or a full secondary vocational education (see § 48, paragraph 1 of the Act on Higher Education). Applicants prove it by submitting an officially certified copy of the graduation certificate, which the applicants deliver by post or deliver in person to the FAI Study Department no later than on the day of enrollment in the study. Foreign nationals who did not obtain their secondary education in the Czech Republic or the Slovak Republic shall prove it by submitting an officially certified copy of the nostrification clause pursuant to Decree No. 12/2005 Coll. Applicants - foreign nationals (except citizens of the Slovak Republic) who have graduated from foreign high schools or universities (except Slovak schools), prove their readiness to study in the Czech language by submitting an officially certified proof of the graduation exam or state exam in the Czech language or a certificate of Czech language. Applicants must deliver these documents no later than the date of enrollment in the study.
Additional information about admission procedure
Graduate profile
The graduate will gain a deeper education in industrial robotics, i.e., applying all available kinematically different mechatronic and robotic systems directly in the environment of production lines and control of material flows in them. The graduate will gain knowledge and experience with design and especially application possibilities of individual robotic elements and will be able to program their control systems to optimize their actual deployment.
Expected career prospects
The graduate of this study program will study the ability at the bachelor's level to apply their comprehensive knowledge in the field of measurement, control, and complex automation of production processes and production lines in various industries. He will be able to participate in the implementation of complex automation systems. Graduates can also apply in IT positions, are capable of independent programming and system work associated with computer technology, and participate in the creation of management projects and production and sales organizations.
Curricula
Year of validity: 2023
Compulsory Courses
| Year of study | Semester | Name | Type of termination | Number of credits |
| --- | --- | --- | --- | --- |
| 1 | ZS | Seminar of Mathematics | Examination | 8 |
| 1 | ZS | Software Support of Engineering Computation | Classified course credit (exam) | 3 |
| 1 | ZS | Hardware and Operating Systems | Classified course credit (exam) | 4 |
| 1 | ZS | Programming Methods | Classified course credit (exam) | 5 |
| 1 | ZS | Seminar of Physics | Examination | 7 |
| 1 | ZS | Introduction to Robotics | Classified course credit (exam) | 2 |
| 1 | LS | Automatic Control | Examination | 7 |
| 1 | LS | Mechanics in Robotic Systems | Examination | 5 |
| 1 | LS | Data Transfer and Storage Systems | Classified course credit (exam) | 5 |
| 1 | LS | Electrotechnics | Examination | 6 |
| 1 | LS | Introduction to Material Sciences | Examination | 4 |
| 1 | LS | Branch Laboratory | Classified course credit (exam) | 3 |
| 2 | ZS | Selected Chapters in Mathematics | Examination | 6 |
| 2 | ZS | Object-oriented Programming | Classified course credit (exam) | 4 |
| 2 | ZS | PLC Programming | Examination | 6 |
| 2 | ZS | Instrumentation and Measurement | Examination | 6 |
| 2 | ZS | Mechatronic Systems | Examination | 6 |
| 2 | ZS | Robotics Laboratory 2 | Course credit | 2 |
| 2 | ZS | Engineering Graphics | Classified course credit (exam) | 4 |
| 2 | LS | Heat Processes | Examination | 6 |
| 2 | LS | Managing Material Flows | Examination | 4 |
| 2 | LS | Continuous Control | Examination | 7 |
| 2 | LS | Production Management and Logistics | Classified course credit (exam) | 4 |
| 2 | LS | Construction of Robots and Manipulators | Examination | 6 |
| 3 | ZS | Fluid Mechanics | Examination | 5 |
| 3 | ZS | Embedded Systems with Microcomputers | Examination | 5 |
| 3 | ZS | Technical Means of Automation | Examination | 5 |
| 3 | ZS | Analog and Digital Technology | Examination | 6 |
| 3 | ZS | Actuators of Mechatronics Systems | Examination | 5 |
| 3 | ZS | Term Project | Course credit | 1 |
| 3 | LS | Programming and Application of Industrial Robots and Manipulators | Examination | 5 |
| 3 | LS | CAD Systems in Electrical Engineering | Classified course credit (exam) | 3 |
| 3 | LS | Programming of Mobile Applications | Classified course credit (exam) | 5 |
| 3 | LS | Softskills | Course credit | 2 |
| 3 | LS | Bachelor Thesis | Course credit | 16 |
Sport Activity - Compulsory-optional Courses
| Year of study | Semester | Name | Type of termination | Number of credits |
| --- | --- | --- | --- | --- |
| | | Sports Activity - Aerobics | Course credit | 1 |
| | | Sports Activity - American football | Course credit | 1 |
| | | Sports Activity - Badminton | Course credit | 1 |
| | | Sports Activity - Boxing | Course credit | 1 |
| | | Sports Activity - Cycling | Course credit | 1 |
| | | Sports Activity - Floorball | Course credit | 1 |
| | | Sports Activity - football | Course credit | 1 |
| | | Sports Activity - Golf | Course credit | 1 |
| | | Sports Activity - (Mountain) Climbing | Course credit | 1 |
| | | Sports Activity - Roller Skating | Course credit | 1 |
| | | Sports Activity - Kendo | Course credit | 1 |
| | | Sports Activity - Summer Course | Course credit | 1 |
| | | Skiing and Snowboarding Abroad | Course credit | 1 |
| | | Sport Activities - Strength Training and Fitness | Course credit | 1 |
| | | Sports Activity - Swimming | Course credit | 1 |
| | | Sports Activity - Self-defence | Course credit | 1 |
| | | Sports Activity - Indoor Soccer | Course credit | 1 |
| | | TableTennis | Course credit | 1 |
| | | Sports Activity - Tennis | Course credit | 1 |
| | | Sports Activity - Tai Chi Chuan | Course credit | 1 |
| | | Sports Activity - Taekwondo | Course credit | 1 |
| | | Sports Activity - Volleyball | Course credit | 1 |
| | | Sports Activity - Health-related PT/PE | Course credit | 1 |
| | LS | Sports Activity - Summer Course | Course credit | 1 |
Year of validity: 2023
Compulsory Courses
| Year of study | Semester | Name | Type of termination | Number of credits |
| --- | --- | --- | --- | --- |
| 1 | ZS | Seminar of Mathematics | Examination | 8 |
| 1 | ZS | Software Support of Engineering Computation | Classified course credit (exam) | 3 |
| 1 | ZS | Hardware and Operating Systems | Classified course credit (exam) | 4 |
| 1 | ZS | Programming Methods | Classified course credit (exam) | 5 |
| 1 | ZS | Seminar of Physics | Examination | 7 |
| 1 | ZS | Introduction to Robotics | Classified course credit (exam) | 2 |
| 1 | LS | Automatic Control | Examination | 7 |
| 1 | LS | Mechanics in Robotic Systems | Examination | 5 |
| 1 | LS | Data Transfer and Storage Systems | Classified course credit (exam) | 5 |
| 1 | LS | Managing Material Flows | Examination | 4 |
| 1 | LS | Introduction to Material Sciences | Examination | 4 |
| 1 | LS | Branch Laboratory | Classified course credit (exam) | 3 |
| 2 | ZS | Selected Chapters in Mathematics | Examination | 6 |
| 2 | ZS | Object-oriented Programming | Classified course credit (exam) | 4 |
| 2 | ZS | PLC Programming | Examination | 6 |
| 2 | ZS | Instrumentation and Measurement | Examination | 6 |
| 2 | ZS | Mechatronic Systems | Examination | 6 |
| 2 | ZS | Robotics Laboratory 2 | Course credit | 2 |
| 2 | LS | Heat Processes | Examination | 6 |
| 2 | LS | Electrotechnics | Examination | 6 |
| 2 | LS | Continuous Control | Examination | 7 |
| 2 | LS | Production Management and Logistics | Classified course credit (exam) | 4 |
| 2 | LS | Construction of Robots and Manipulators | Examination | 6 |
| 3 | ZS | Fluid Mechanics | Examination | 5 |
| 3 | ZS | Embedded Systems with Microcomputers | Examination | 5 |
| 3 | ZS | Technical Means of Automation | Examination | 5 |
| 3 | ZS | Analog and Digital Technology | Examination | 6 |
| 3 | ZS | Actuators of Mechatronics Systems | Examination | 5 |
| 3 | ZS | Term Project | Course credit | 1 |
| 3 | LS | Programming and Application of Industrial Robots and Manipulators | Examination | 5 |
| 3 | LS | CAD Systems in Electrical Engineering | Classified course credit (exam) | 3 |
| 3 | LS | Programming of Mobile Applications | Classified course credit (exam) | 5 |
| 3 | LS | Softskills | Course credit | 2 |
| 3 | LS | Bachelor Thesis | Course credit | 16 |
Sport Activity - Compulsory-optional Courses
| Year of study | Semester | Name | Type of termination | Number of credits |
| --- | --- | --- | --- | --- |
| | | Sports Activity - Aerobics | Course credit | 1 |
| | | Sports Activity - American football | Course credit | 1 |
| | | Sports Activity - Badminton | Course credit | 1 |
| | | Sports Activity - Boxing | Course credit | 1 |
| | | Sports Activity - Cycling | Course credit | 1 |
| | | Sports Activity - Floorball | Course credit | 1 |
| | | Sports Activity - football | Course credit | 1 |
| | | Sports Activity - Golf | Course credit | 1 |
| | | Sports Activity - (Mountain) Climbing | Course credit | 1 |
| | | Sports Activity - Roller Skating | Course credit | 1 |
| | | Sports Activity - Kendo | Course credit | 1 |
| | | Sports Activity - Summer Course | Course credit | 1 |
| | | Skiing and Snowboarding Abroad | Course credit | 1 |
| | | Sport Activities - Strength Training and Fitness | Course credit | 1 |
| | | Sports Activity - Swimming | Course credit | 1 |
| | | Sports Activity - Self-defence | Course credit | 1 |
| | | Sports Activity - Indoor Soccer | Course credit | 1 |
| | | TableTennis | Course credit | 1 |
| | | Sports Activity - Tennis | Course credit | 1 |
| | | Sports Activity - Tai Chi Chuan | Course credit | 1 |
| | | Sports Activity - Taekwondo | Course credit | 1 |
| | | Sports Activity - Volleyball | Course credit | 1 |
| | | Sports Activity - Health-related PT/PE | Course credit | 1 |
| | LS | Sports Activity - Summer Course | Course credit | 1 |